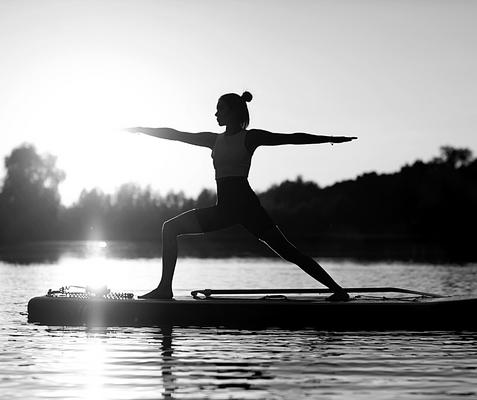 SUP Yoga Classes
What is SUP Yoga?
Simply put, SUP yoga (stand-up paddleboard yoga) is practicing yoga on a stand-up paddleboard in the middle of a body of water. SUP yoga is best practiced on calm bodies of water. In the last two years. SUP yoga has become a trending water sport for yogis and for those who already enjoy paddle-boarding. In fact, many yogis are improving their yoga skills tremendously by practicing SUP yoga because it requires more strength, balance, and focus.
Studio Bamboo's SUP Yoga Class
Enjoy the physical and mental discipline of yoga while being surrounded by the serenity of Mother Nature. We will meet at Tula Sports Adventure at the Marina Shores Marina and paddle out to a calm water spot, circle up our boards, drop anchor, and go through the motions of yoga on our SUP. Your certified SUP Yoga teacher will guide you through a 60 minute practice that starts slowly, letting you get used to the floating surface. You will then move into a more dynamic flow before slowing down to cool off and the greatest Savasana you've ever experienced (truly!).
The sky above you, the sea below you, surrounded by nature, sun, and salt… What could be more blissful? We look forward to seeing you on the water!
Classes start May 24th and End September 2nd
Offered Weekly on Monday's @9:00 am and Thursdays @6:00 pm
$25 Class with your own paddleboard
$35 Includes your paddleboard rental
Please Note: Due to the high volume of students, pre-registration is mandatory to reserve your spot in class. Need help pre-registering for class? Feel free to contact the front desk.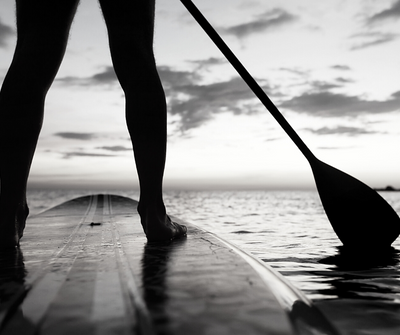 SUP & YOGA EXCURSIONS
Enjoy the freedom to move and to be moved on your paddleboard and take your yoga off of the mat, and onto the water!
Join Studio Bamboo and Tula Adventure Sports for a 3-hour stand-up paddle-boarding tour and yoga class on the beach. We will depart from Marina Shores Marina, and make the 1.9-mile paddle to the flats (the sandbar in the middle of the Lynnhaven Inlet, with the Lesner Bridge, Brock Environmental Center in sight).
The Tula Pontoon Boat and staff will accompany us for the duration of the excursion. The boat will provide water, snacks, and a place to put your yoga mat or beach towel. Once we arrive we will have beach yoga! After Class, we will have a scenic paddle back. EXPERIENCED PADDLERS PREFERRED.
Dates this event is offered:
June 13th @5:30pm-8:30pm
July 17th @9:am-12:00pm
August 15th @8:30am-11:30am
Please Note: We have limited boards available for rental. If you do not have a board and will be renting one, we encourage you to register early.